Attorneys
Michael J. Cox
mjcox@coxlawky.com
(859) 523-2260 ext. 33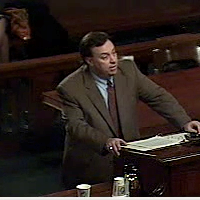 Michael has been engaged in law practice for over 25 years, focusing primarily on trial and litigation work. He has accumulated education and extensive experience in a number of areas of law.

After law school, Michael served as a judicial law clerk to Honorable Karl S. Forester, U.S. District Judge for the Eastern District of Kentucky. His duties included extensive research, attending 50-60 trials and hundreds of various conferences and hearings, drafting court opinions and memoranda, and responsibility for assisting the Judge with handling the federal court docket. Michael also prepared, assisted and accompanied Judge Forester when sitting by designation on the U.S. Court of Appeals for the Sixth Circuit.

Michael has practiced law in both a large multi-office Kentucky law firm and an established mid-size Lexington law firm where he was a shareholder and director. Over his career he has handled various litigation and civil and criminal trial work in federal and state courts.

Over the last two and a half decades Michael's trial/litigation practice experience includes handling claims relating to personal injury and death, insurance, business/commercial matters (contracts), professional negligence and malpractice liability (including of accountants, attorneys, health care providers and hospitals, veterinarians, engineers, appraisers and other professionals), torts, fraud/misrepresentation, employment, education, equine, banking, product liability, class actions, constitutional and civil rights, construction, appeals, and mediations. He has handled international matters, including travels to London, England, where he worked with a Lloyd's of London syndicate insurer and examined its British solicitor in a video deposition that was presented as evidence in his client's Kentucky jury trial.

Michael has also been called upon at times to conduct special investigations and to report on allegations of improprieties in local government and business. For example, in 1998, Michael was appointed by a federal judge to represent a group of inmates challenging unconstitutional overcrowding at the Lexington-Fayette Urban County Government Detention Center. He was instrumental in negotiating a Consent Decree with the city and with assistance of the Fayette Circuit and District Court Judges. The federal court approved and entered the Consent Decree, which enjoined the city, its jail and its officials from accepting more prisoners than maximum capacity of the facilities, and addressed procedural mechanisms involving the local state court judges making release decisions whenever overcrowding occurred. The efforts and negotiations culminating in the federal court injunction prompted the city council to authorize construction of a new, larger and modern detention center (and demolition of the old jail building).

In 2000 the Mayor of Lexington employed Michael as an independent outside legal counsel to head up a comprehensive investigation into the city's Division of Code Enforcement and its personnel concerning allegations of various improprieties (which had become the subject of a multi-part series of newspaper reports). Over approximately 6 months, Michael's investigation entailed interviews of dozens of city employees and non-employee witnesses and review of hundreds of records. The investigation culminated in a lengthy report submitted to the Mayor containing extensive and detailed findings, conclusions and recommendations. Substantial changes occurred in the Division. Subsequent discipline of an employee arising out of the investigation was validated by the Kentucky Court of Appeals in a legal challenge by him, Barrow v. Lexington-Fayette Urban County Civil Service Comm'n, 222 S.W.3d 237 (Ky. App. 2006).

In 2011, a federal judge appointed Michael to serve as the lead neutral arbitrator on a panel in an Eastern Kentucky mineral law case. The matter subsequently settled.

Michael has previously served as an expert witness in attorney malpractice litigation in federal court.

In recent years, in addition to his private law practice, Michael agreed to serve as a part-time corporate counsel for Alltech, Inc., a global company of more than 3,000 employees in 128 countries. His particular focus addressed employment and human resource issues, including employment investigations and report preparation. He also assisted with organization of the human resources department and formulation of employment policies.

Over the years Michael has built a strong reputation for handling difficult, complicated and sometimes unpopular matters, and he brings common sense and a sharp view to cost-benefit considerations in efficiently obtaining successful outcomes.

Michael is the proud father of a son Drew who keeps him busy outside of work, indulging his son's varied sports and other interests.
Qualifications
Licensed to practice law in all courts of the Commonwealth of Kentucky
Admitted to practice in the U.S. District Courts for the Eastern and Western Districts of Kentucky
Admitted to practice in the U.S. Court of Appeals for the Sixth Circuit
Education
University of Kentucky College of Law, Juris Doctor
University of Kentucky, Bachelor of Arts, With Distinction
Activities and Honors
Reported Cases
Laney v. Getty, 19 F.Supp.3d 737 (E.D. Ky. 2014)
Laney v. Getty, 19 F.Supp.3d 745 (E.D. Ky. 2014)
Limbright v. Hofmeister, 688 F.Supp.2d 679 (E.D. Ky. 2010)
Sawyer v. Mills, 295 S.W.3d 79 (Ky. 2009)
In re Air Crash at Lexington, Ky., Aug. 27, 2007, 486 F.Supp.2d 640 (E.D. Ky. 2007)
Ball v. Stalnaker, 517 F.Supp.2d 946 (E.D. Ky. 2007) (served as expert witness)
Barrow v. Lexington-Fayette Urban County Civil Service Com'n, 222 S.W.3d 237 (Ky. App. 2006) (court validated investigation of city employee as independent outside counsel)
Richard E. Jacobs Group, Inc. v. White, 202 S.W.3d 24 (Ky. 2006)
Snow v. West American Insurance Co., 161 S.W.3d 338 (Ky. App. 2004)
Kelly v. McFarland, 243 F.Supp.2d 715 (E.D. Ky. 2001)
Jahn v. Equine Services, PSC, 233 F.3d 382 (6th Cir. 2000)
Wilkins v. Baptist Healthcare System, Inc., 150 F.3d 609 (6th Cir. 1998)
Duvall v. CHR, 920 F.Supp. 111 (E.D. Ky. 1996)
Wood v. Malin Trucking, Inc., 937 F.Supp. 614 (E.D. Ky. 1995)